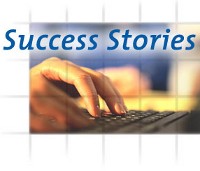 The following are just a few of the companies who have benefited from our patent services:

Genesys Telecommunications Laboratories
Genesys, with headquarters in Daly City, California is the world leader in Call Center technology, and provides call center software and customer experience software  to enterprises around the world.  CCPA started with Genesys when just six patent applications were on file in 1996, and Genesys enjoyed small entity status with the US Patent Office.
Over the next 16 years CCPA has filed and prosecuted hundreds of patent applications on behalf of Genesys, resulting in more than 375 patents in the US and in other countries around the world.  In the course of this synergistic association Genesys accomplished an Initial Public Offering, was acquired by Alcatel, headquartered in Paris, France, and Alcatel later (2006) merged with Lucent Technologies forming Alcatel-Lucent.  Alcatel-Lucent in 2012 sold Genesys to London-based Permira, the private equity group.
The patents issued via CCPA were a large factor contributing the Cinderella success of Genesys. More to come! CCPA is currently prosecuting and filing hundreds more patent applications as Genesys goes back to its roots, ramping up the patent filings for 2012 and beyond.

Pluris, Inc. a startup founded in the mid 1990s to develop scalable Internet core routers. Pluris ceased operation in July of 2002.  CCPA, Inc came up with an innovative plan to bring the large number of innovations contained in the few pending applications they had at the time, to fruition.
As of 2012 under CCPA guidance and prosecution there are more than eighty patents issued in the US, Europe and Japan, with valuable claims to router hardware and software.  Assertion and monetization of this portfolio is expected to earn substantial rewards for the new owner.

YODLEE, a leader in personal financial data management was founded in 1999 by Dr. Venkat Rangan. YODLEE has expanded into business-to-business software.
CCPA was given free rein to develop a patent portfolio in the US and Europe. Yodlee now enjoys the fruits of nearly 50 patents issued by CCPA.

DataRam Corporation
DataRam, located in Princeton, NJ, develops and sells cutting edge solutions in digital storage.  CCPA, Inc began working with DataRam in 2008 issuing 13 patents. Those patents have recently been monetized adding substantial revenue to the bottom line for DataRam. DataRam will continue to file patent applications through CCPA as they begin their second patent portfolio.

Elonex PLC
CCPA became outside counsel for Elonex Limited, a London-based manufacturer of PCs, in 1994 through association with Dan Kikinis and Oakleigh Systems.  Dan and CCPA cooperated in preparing, filing and prosecuting about two hundred patent applications over a five year period.  One of Dan Kikinis' innovations involved power management for computer monitors. Several patents on this subject were issued in the US, Europe and Japan.
In 2001 Elonex reached agreement with a number of manufacturers of monitors, including Hewlett-Packard, Hitachi, Nokia, Philips, Mitsubishi, Sanyo, Sharp and Samsung.  Payments and royalties have exceeded 100 million dollars. In 2001 Elonex reached agreement with SAMSUNG ELECTRONICS of Suwon City, Korea concerning the licensing of Elonex's display power management technology. Power management systems allow personal computer display monitors to consume less power after user-defined or default idle periods.
Samsung obtains a license under all of Elonex's display power management patents worldwide. These patents comprise more than twenty independent claims directed to the power management of peripheral devices including display monitors; and enable PC systems to be energy efficient.
Samsung is the largest Asian-based global monitor maker to date to license Elonex's technology. Elonex has previously licensed Hewlett-Packard, Hitachi, Nokia, Philips, Mitsubishi, Sanyo, Sharp and others. Elonex is confident that other Korean and Asian companies will follow Samsung's lead and license this technology.
In addition to monitor power management, other patents in the Elonex portfolio have been successfully asserted.
Founded in March 1986, Elonex plc supplies complete IT solutions to a customer base that ranges from private individuals to multinational corporations and government departments. The company designs, manufactures, markets and supports a complete range of desktop PCs, notebooks, and network servers. It also provides computer support services encompassing system specification, configuration, installation and maintenance.
In response to the demands of its customer base, Elonex has developed from a computer manufacturer to a complete business solutions provider. Under the title of Elonex Solutions (ES), the company provides a broad portfolio of offerings including IT Consultancy, Networking and Systems Integration, System & User Training, Internet, Intranet and Security, Outsourcing, Maintenance and Support, Thin Client Solutions, and Disaster Recovery/Business Continuity.

Lextron Systems, Inc.
Lextron Systems is a technology company founded by Dan Kikinis, who is an inventor in many Elonex and Genesys cases. Dan, at the time of the Elonex project, was an official of Elonex, and the prime inventor in most of the cases in the Elonex portfolio. Dan, as President and CEO of Lextron, has maintained good relationships with Genesys and Elonex, and has independently launched a broad range of patentable technology. Dan, as a client with Elonex, was also instrumental in the initiation of the CCPA business model. Many of the technology areas at Lextron are now patented, including an important "Proxy Server" technology greatly improving ability to navigate and research the Internet, which is now widely used and licensed by many business enterprises.